I moved into this house almost 5 years ago. It's a pretty decent house in a pretty decent area. But you know what is pretty
in
decent? The "master" bathroom is
TINY
. I mean, when we go out to a restaurant that only has one bathroom [as opposed to 3 stalls] I am kind of jealous. I WANT THIS SPACE. It's a good thing that I am a small person and Daniel has taken over the
much
larger guest bathroom, because, like an old Western, "There ain't room for the two of us."
I decided to finally take matters into my own hands. I will enjoy this tiny bathroom, dangit! I've been craving a repaint, and chose to start with my itty-bitty bathroom – fangirl style. Let's just pretend that my minuscule bathroom is "bigger on the inside," eh? 🙂
The first thing I did was clear out all of my stuff. ALL of it. I refused to take a before photo with all of my belongings visible. Trust me, it was a typical girl bathroom. Yikes.
So after getting rid of the clutter, it was time to CLEAN. And then I remembered what my bathroom looked like when we first moved in. ha!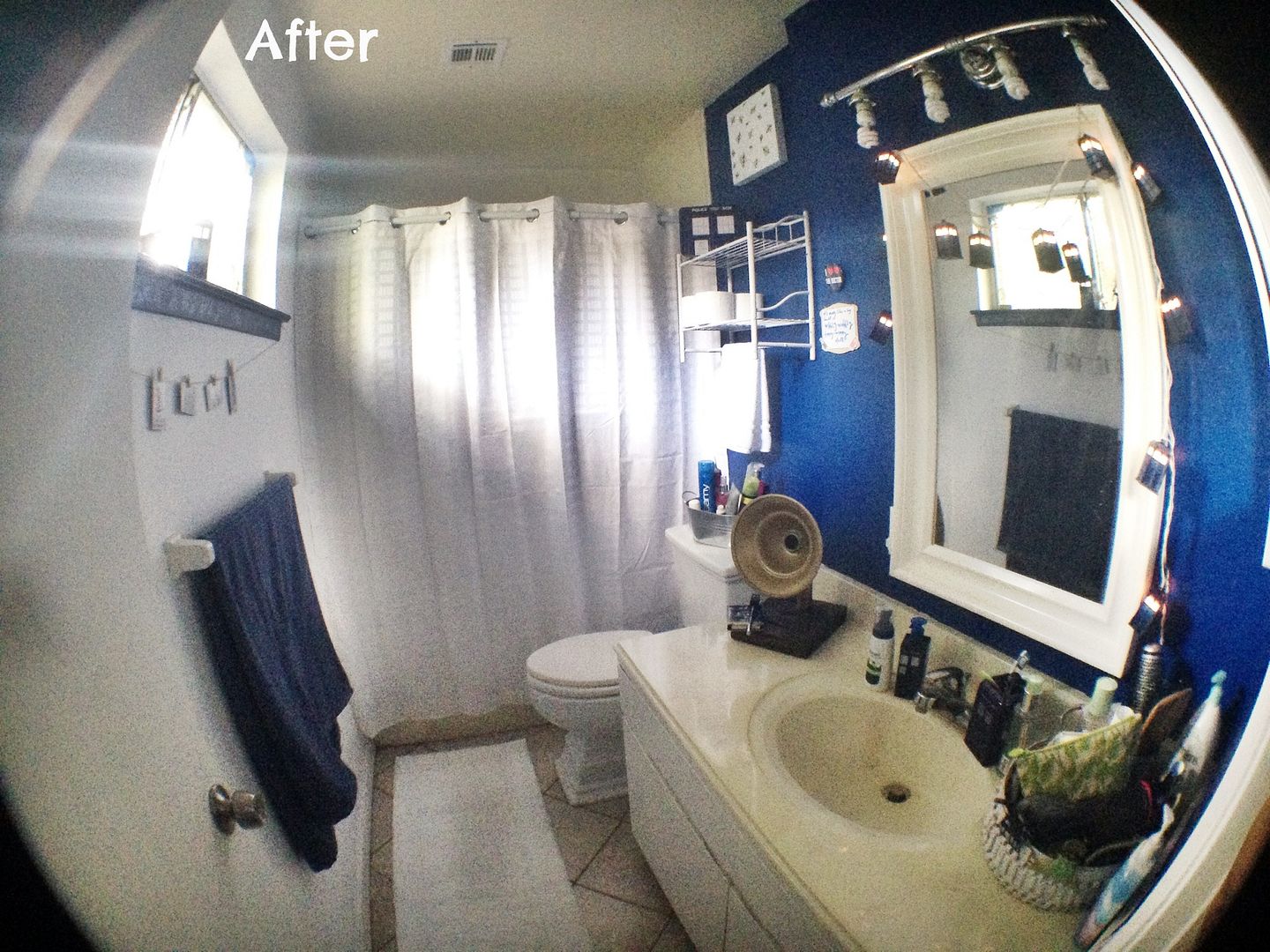 Sometime in the spring, I received a very tempting email from ThinkGeek.com. "Doctor Who Sale!" was all I needed to see…click! The TARDIS bathroom accessories are what jump started the bathroom renovation ideas. Then I received an email from JCPenney about possibly reviewing a couple towels. Heck yes! My dream shower curtain was a bit too expensive, so I stuck with the simple white and "TARDIS blue" theme [actually called "Blueberry Twist"].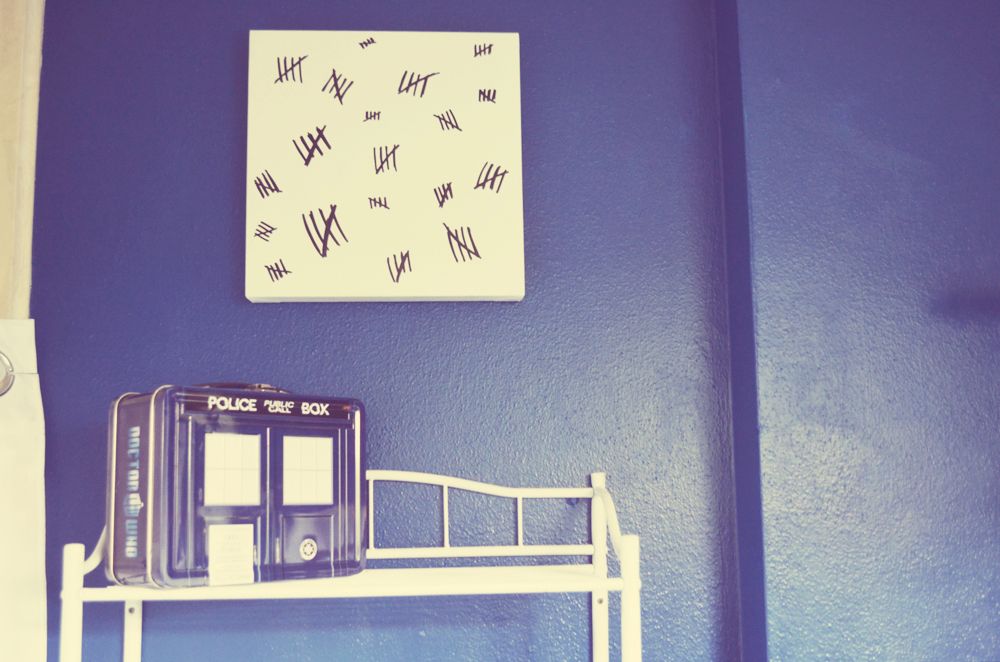 Handmade "Silence" themed art // TARDIS lunchbox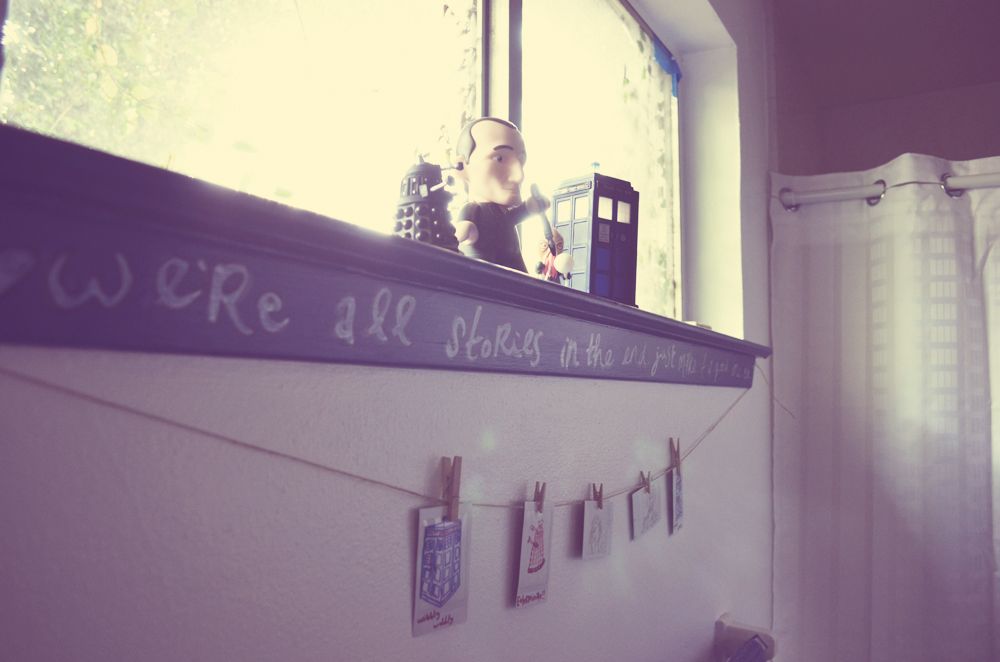 We're all stories in the end. Just make it a good one, eh?
It bothers me slightly that one of my favorite quotes is from a different Doctor than the figure I've got on my window sill…guess I'll just have to collect the other boys. 🙂 I want to find a spot to put one of my favorite Eccleston quotes: You were fantastic. Absolutely fantastic. And you know what? So was I.
The 10th Doc also as a quote near my mirror: It's more like a big ball of wibbly-wobbly timey-wimey stuff.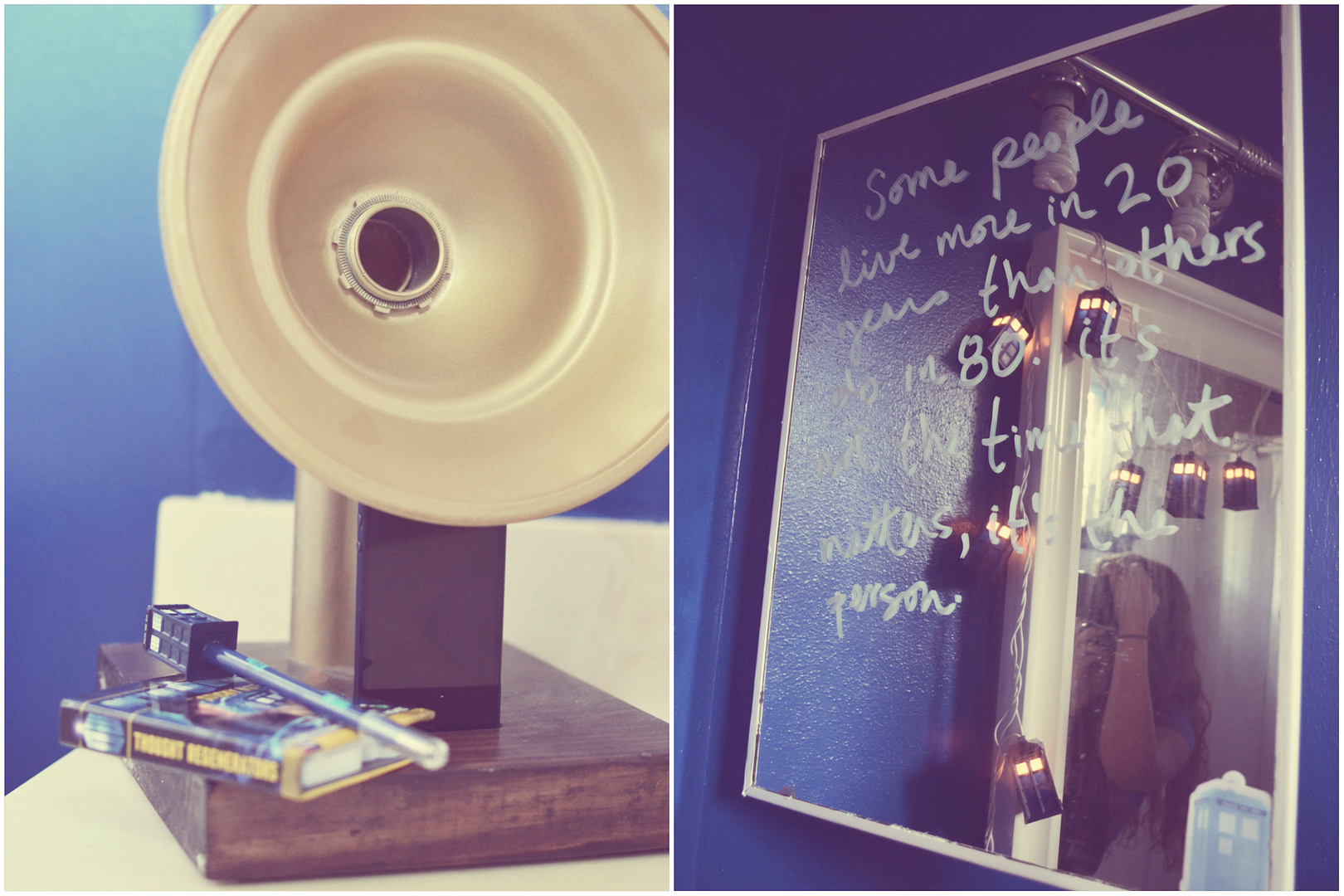 Some people live more in 20 years than others do in 80. It's not the time that matters, it's the person.
Drew some "fan art" on ruined insta film. 🙂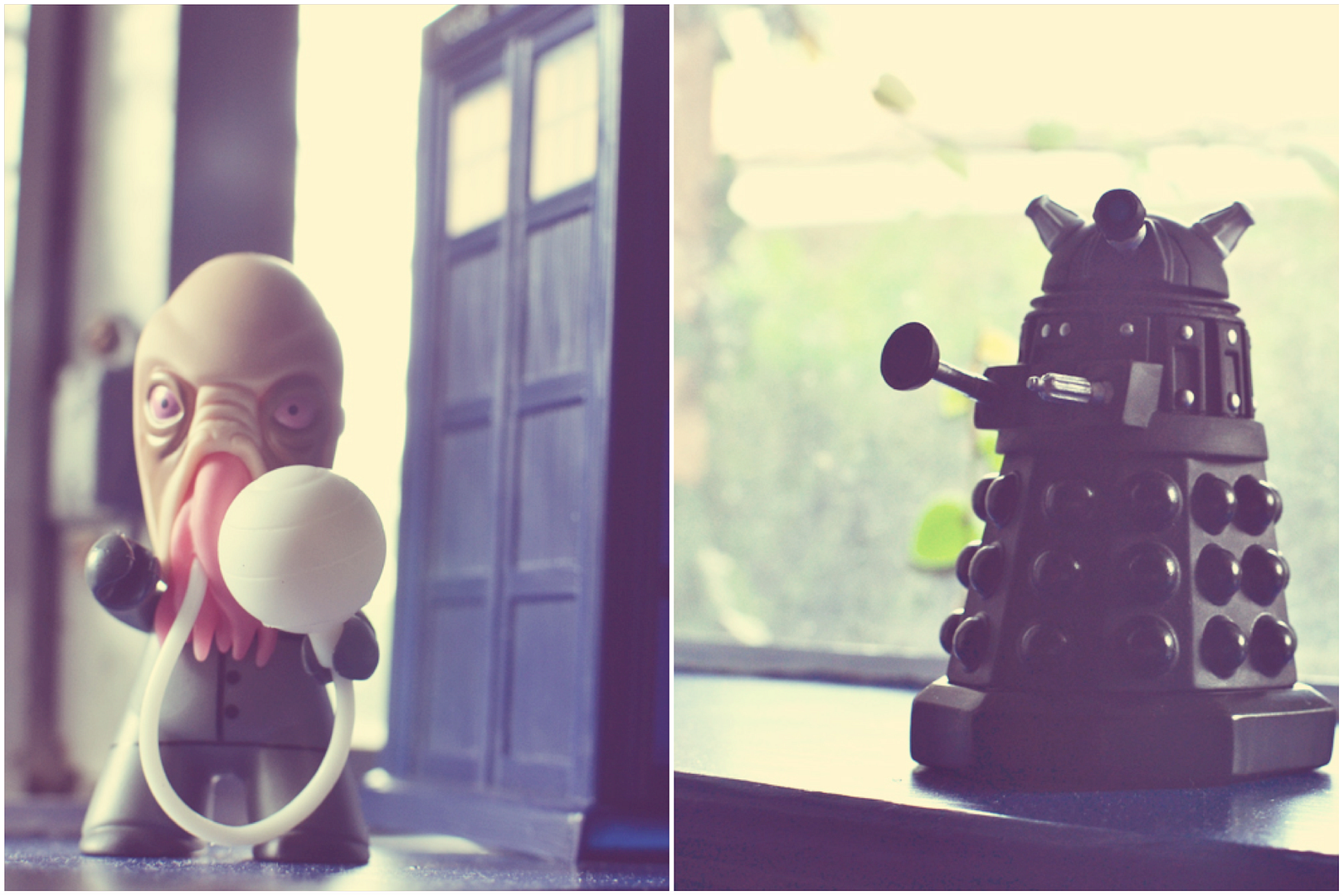 Ood, Dalek
I received my new, matching towels from JCPenney. They are waffled, soft, and the perfect size: nice and big! The wonderful folks at JCP are giving away a couple – whatever color[s] you'd like! I've used mine by the pool and in the shower. I'm telling you, they are awesome. 🙂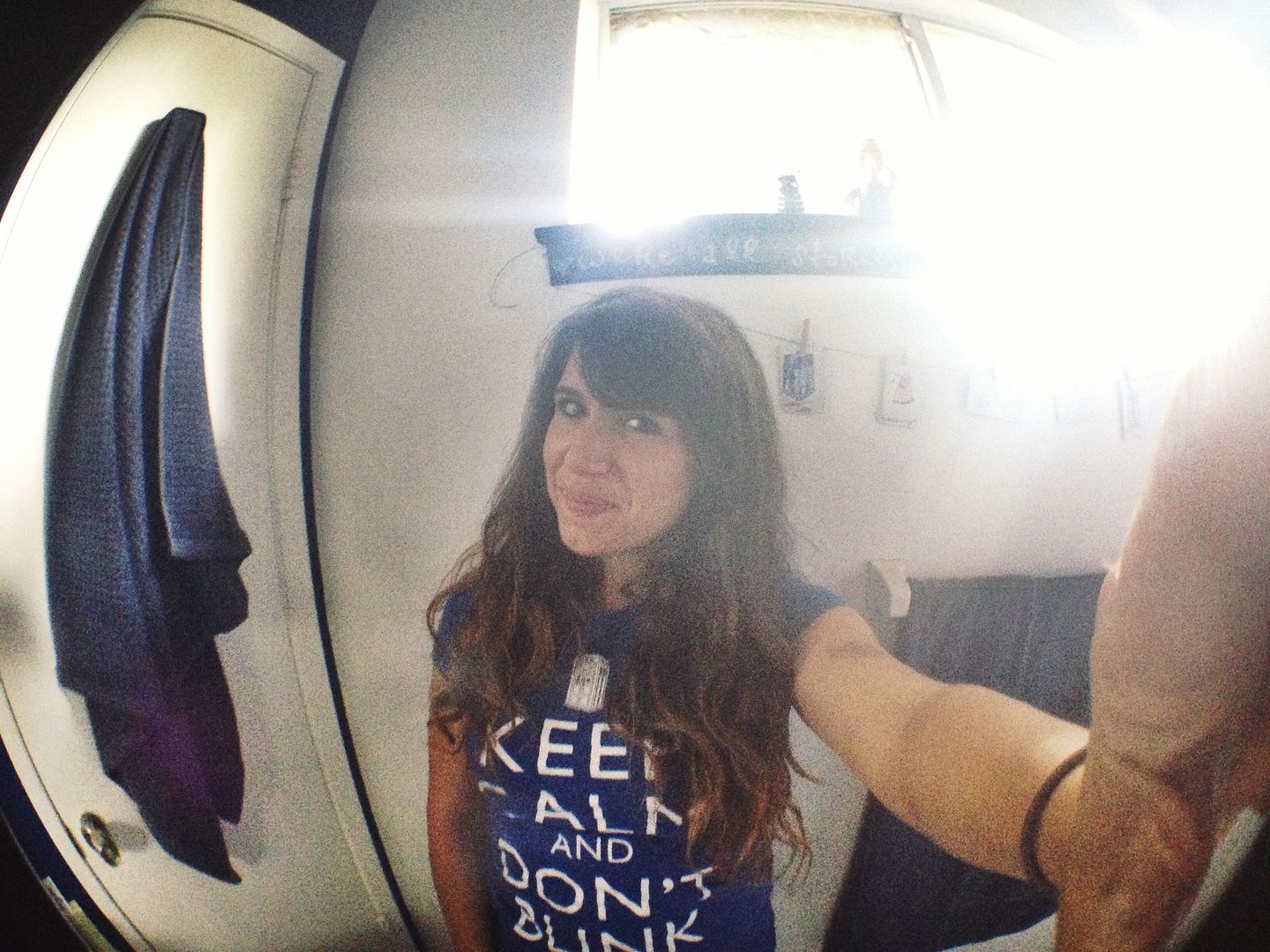 p.s. if you a geek like me, check out my friend Meli's new Doctor Who inspired tattoo. SO COOL.
Win a couple towels of your own by simply "liking" the JCPenney Facebook page! Earn extra entries in a variety of ways, too. 🙂 You'll get to select whatever color[s] you want, based on availability. Use the the widget below to enter. Good luck!