I am a member of the Collective Bias® Social Fabric® Community.
This shop has been compensated as part of a social shopper insights study for Collective Bias and its advertiser. #NudgesMoments #CollectiveBias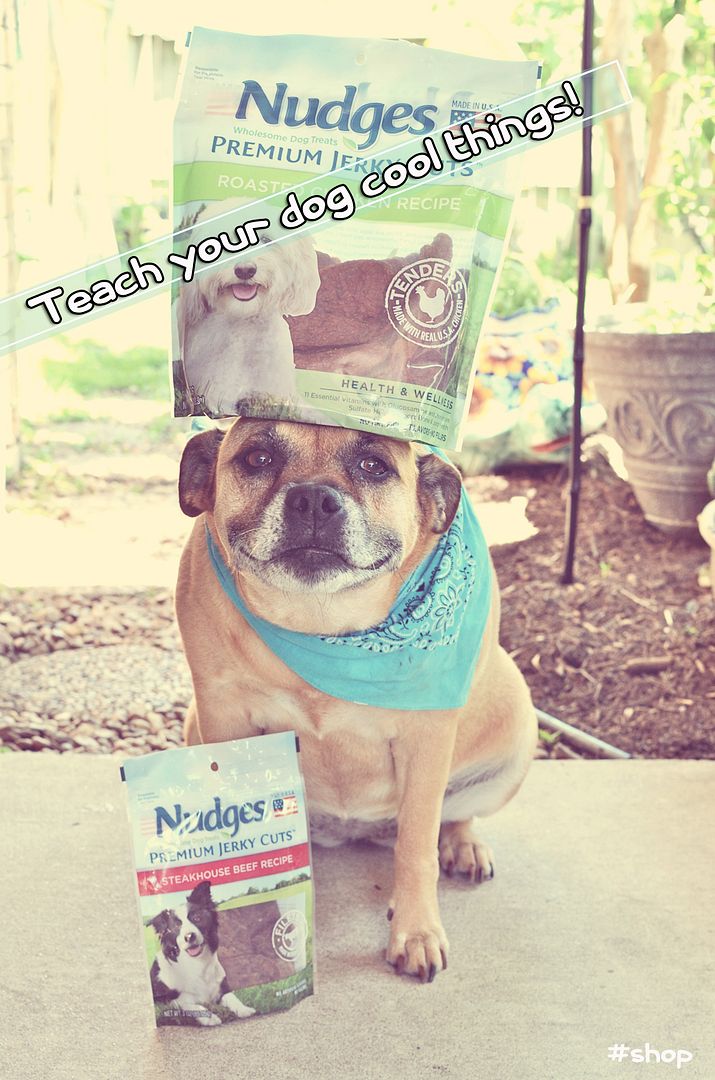 Interested in teaching your fur baby a new trick? With the right motivation, your dog will be capable of impressive things! Positive reinforcement dog training is the way to go. 🙂
When I first started working with Buster, I used treats, as well as hugs and kisses, depending on the length of time we work together that day. Now that she is older and accustomed to yummier "human" food [Thanks, parents!], I make sure she gets a couple treats after her balancing acts. I love Buster very much and am very appreciative of her patience, which is why I make sure I tell her and show her before, during, and after our sessions. 🙂
Buster is currently obsessed with Nudges. She prefers jerky-style dog treats over the bland and dry cookie-types. We probably spent a good 30 minutes trying to get her balancing just right [the wind did not help!], but as long as I gave her at least half a Nudge every few attempts, she was happy!
When we first practiced balancing, I'd hold my hand under Buster's chin while the object sat on her head or snout. She instinctively tilted her head down [and still does!], but after I positively reinforced the behavior I wanted [holding her head up] many, many times, she figured it out. I still start with my hand under her chin, but am now able to repeat "wait….wait…." as I release her chin and reach for my camera. If you notice your dog becoming frustrated [restless, tilting head down more often], give them a break! Reward her with a whole Nudge, as well as kind words and kisses. This will do a lot to clean the slate and motivate her to try again. Dog training requires patience on your end, as well as your pooch's. 🙂
You know who else will do just about anything for a
Nudge
?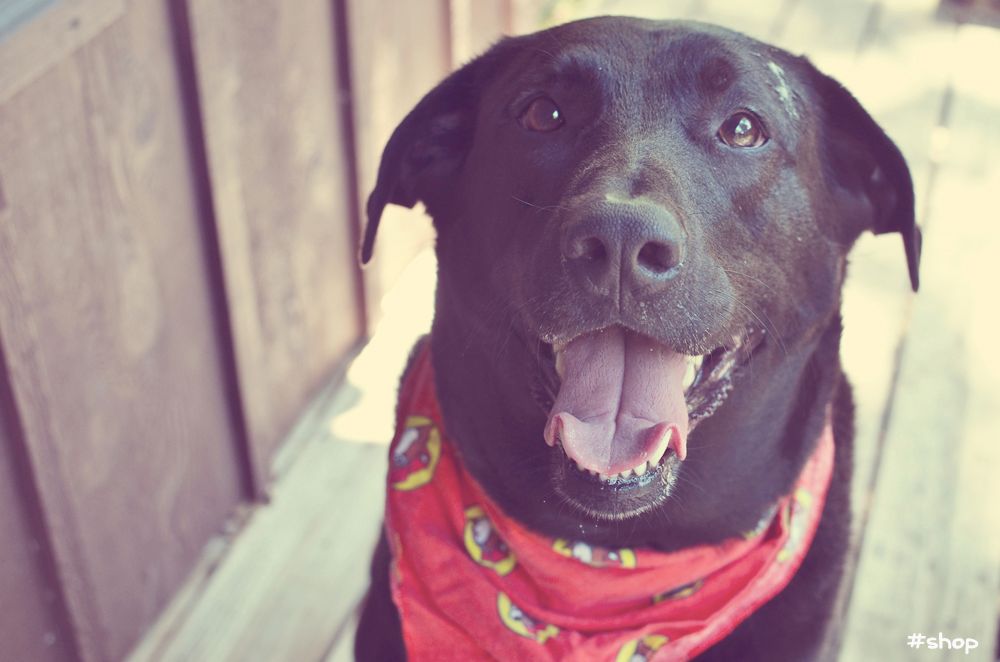 If you recall, Osa started acting out last year and Daniel and I hired a trainer to work with us. I am incredibly grateful because it has taught me not to judge a book by it's goofy looking cover. 🙂 Last year we taught Osa to open the refrigerator and bring me a drink! Sometimes she'd swing the door too hard and it would stay open, which defeats the purpose, right? As I continued to work with her this year, with the help of her favorite jerky cuts, Osa figured out how to close the refrigerator door, too! It was the cutest moment ever!
She was desperate for another Nudge and was continuously opening the refrigerator while I messed with my camera, or dealt with Rory [who was also interested in the treats and kept trying to run of with the bag!]. At one point, I hadn't replaced the drink yet and when she opened the fridge and found nothing to remove, she grabbed the rope and closed it again. I was ecstatic!! I ran around yelling "good girl, good girl!!" and gave her a whole Nudge. A break-through is worth a big celebration. She was excited that I was excited and wagged that tail all over the place. My silly little sweetheart!
related note: Osa is kenneled during the day, therefore she can't go partying in the fridge when we are not around. I am also working on her to only open the fridge on command. She starts doing it when I've got treats out!
Teaching Osa to open the refrigerator was a gradual process last year. The trick is to practice each step individually, and then connect them all gradually. Our trainer started by playing a little tug game with the rope. Whenever Osa pulled, she received a reward. Then we put the rope on the refrigerator door handle. When she got near it, she was rewarded. Then she was only rewarded when she pulled it. Then she was only rewarded when she pulled it hard enough to open the refrigerator, etc, etc. Later we had coozies around the drinks we wanted her fetching. Before putting them in the refrigerator, we did the same rope process, but with the drink out in the open. We taught her to fetch it, and rewarded the behaviors we wanted.
It takes a lot of standing around waiting for her to try something or figure it out. Sometimes she would need a reminder to get her going, and that's okay. It's a learning process. 🙂 Eventually we combined the "rope trick" with the "drink fetching" trick and only rewarded the combination. WOO. Obviously a good deal of hard work is required of Osa as well as the trainer. 🙂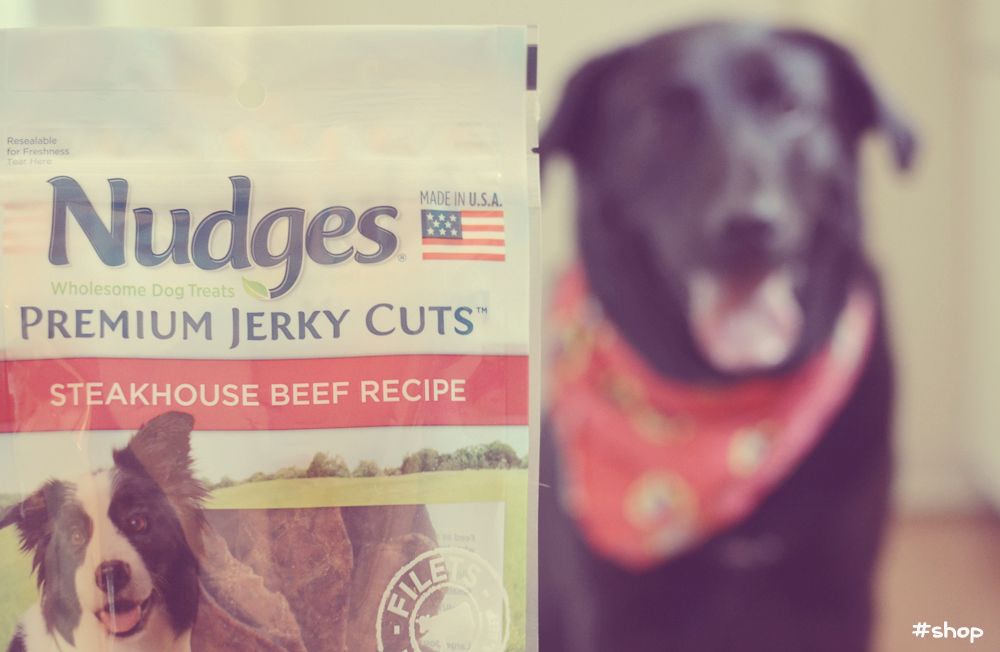 Nudges are made in the USA and come in a variety of real American meats: chicken, beef, bacon, and even duck! Walmart carries all sizes – I keep the big bags in my cupboard and save the travel bags for the road. I don't think my sweet pups will allow me to revert to any other treats. They will literally do anything for a Nudge, and proved it with all of their hard work.
The way the video saved cut off Osa actually grabbing the drink! Click here for a very clear shot. 🙂

Be sure to check out
Nudges
for your fur babies. If they don't already prove their love for you every day, they will now. 😉
xoxo
p.s.
Nudges
has a special offer going on, so now is the perfect time to give them a shot!